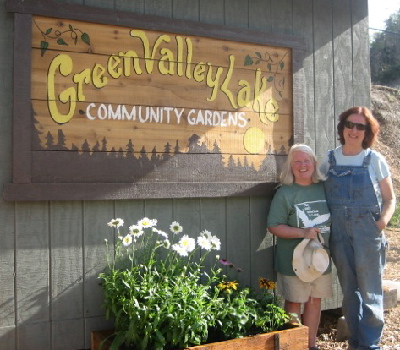 The GVL Community Garden sprang out of the ashes of Fox Lumber that burnt down in the 2007 fire.   Since then it not only hosts over a dozen raised bed garden boxes where a plethora of organic vegetables and flowers grow, but it is also a gathering place for the whole community.  Every Fall the garden hosts a Harvest Festival with a Native American theme and a cornucopia of delicious harvest dishes.  They also host a Halloween Party for the children every year.  During the summer months, the garden hosts the "Summer Faire Series"— free concerts from the stage and many fun activities such as square dancing, quilt shows, photography exhibits, pie festivals, guest speakers, craft vendors, and so much more.  And of course, the gardeners are happy to give tours of all the vegetable beds and explain the techniques of successful growing at this high altitude.
It has become a place of true beauty, good Karma, tranquility and peace; and above all, a place where the whole community can gather together in harmony.
And this is the story of how the garden began:
Bright and early Saturday morning, April 7, 2012, a group of enthusiastic Green Valley Lake folks gathered at the old Fox Lumber site to begin planting our very first community garden.
Master Gardener Roxanne Bon flew down from Reno to help get us started.
The "square-foot gardening method" is new to all of us, so she took us step-by-step through the process.  Tom Minahan built the frame and lined the bottom with wire to keep out the gophers.  It is still early in the season, so special precautions have to be made in order to keep the plants from freezing in the upcoming snowstorms and frosts.  A PVC pipe frame was erected to hold the special anti-freeze cloth and white plastic covering, which are clamped down to also keep out the ground squirrels and raccoons.
 In the square-foot gardening method, the frame only needs to be 6″ deep because the vegetables do not need more than that to grow.  For carrots, just add another 6″ box on top to allow for the extra space carrots and other root crops require.
More Photos.