The Mountain Community Alliance (formery the GVL Disaster Recovery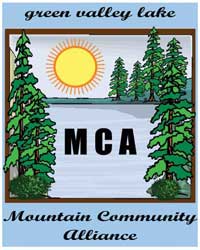 Foundation) is a non-profit charitable organization to benefit the community following a disaster or emergency and to promote the general well being of the mountain community by participating with coalitions and other organizations to help in disaster preparedness, community health and safety, environmental awareness and economic prosperity.  Volunteers for fundraising committees are needed.  Please visit our website at www.mountaincommunityalliance.org
GVL CERT (Citizen Emergency Response Team) is sponsored by the MCA.  Its members are trained and registered with County Fire to aid in emergencies.  For more information about becoming a member, contact sandi@green-valley-lake.com.
The GVL Community Garden
Located downtown on the old Fox Lumber property, the Community Garden offers garden space to all residents (and some from Running Springs!)  For info contact Sandi at 909-867-7105.   Sponsored by the MCA.
GVL Community Church sponsored by Calvary Chapel, is located at 648 Yukon Dr.  Church services are Sunday at 10:30. Pastor Jim Ramos.  Bible Study is every Thursday night.  Taco Tuesday is held at the Club House on the 3rd Tuesday of each month from 5:00 PM to 7:00 PM.  All are welcome. Please call 909-519-4800  for more information about their other activities and outreach, or go to:    Green Valley Lake Community Church

Neighborhood Watch is a program in which neighbors watch out for neighbors.  Please, if you see suspicious behavior going on, call the Sheriff at 336-0600.  If it is an emergency, call 911.  For more info contact Betty at 909-618-7475.
Reminder that operating OHVs is illegal here.  To report illegal activity occurring on the streets, call the CHP at 388-8000.  And if the violation occurs within the National Forest, call the Law Enforcement Officer for the Forest Service: 337-2444, ext. 2767  or call 383-5652.  Together we can make GVL a crime-free community.

Green Valley Mutual Water Co.
909-867-2912   Website: Click Here
Clubhouse
33268 Green Valley Lake Rd., can be rented from the GVL Mutual Water Co.; Call 867-2912
Jim Reid Park (meadow next to museum) and the Community Center can be rented for weddings or family reunions; for reservations, call Steve and Joyce Gossman at 867-5713
All phone numbers are 909 area code unless otherwise noted.
---
Alcoholics Anonymous

These are good groups peopled by folks working together on staying sober.  You can participate as much(or as little) as you like (no pressure).  Please come.

Sunday
Monday
Tuesday
Wed
Thurs
Friday
Saturday
Time

5 pm

6 pm

7 pm

7 pm

6 pm

7 pm

6 pm

Location

RS

GVL

RS

RS

GVL

RS

RS

Type

Bill

Disc

BB

bkwrm

12&12

Disc

Disc

GVL is Green Valley Lake church at 648 Yukon Drive, Green Valley Lake
RS is the Mountain Twelve-Step Club at 31898 Hilltop (SR18), Running Springs
BB is a study of "Alcoholics Anonymous" (aka the Big Book)
bkwrm is a book reading of various AA related publications (book worm)
12 & 12 is a study of the book entitled "Twelve Steps and Twelve Traditions"
Bill is a study of "As Bill Sees It" (there are copies of these books for use during the meeting)
Disc refers to an Open Meeting (open discussion)